---
International Conference: "Climate Change and Social Sciences – What's going on? What's to be done?"
Climate change has become a key theme of our time. While there is enough scientific knowledge and great public awareness, governments and citizens fail to tackle the crisis. Meanwhile, we know that the climate crisis requires not only an ecological transformation but also a profound project of social change, known as socio-ecological transformation. At this conference, our concern relates directly to the societal and political dimension of climate change. What is and should the state and particularly the political system be doing? What to expect from economic actors, societal organizations, social movements, and Non-Governmental Organizations, as well as citizens in this regard? What has been and can be the contribution of the social sciences to the proper consideration and to face up to this looming threat? We bring together scholars working on these issues in order to explore climate change from this broad, theoretical perspective.
The conference will take place at the Latin American Institute from February 2 to February 4, 2023.
If you would like to attend the conference, please register: marie.harnau@fu-berlin.de
You can find the full conference program here.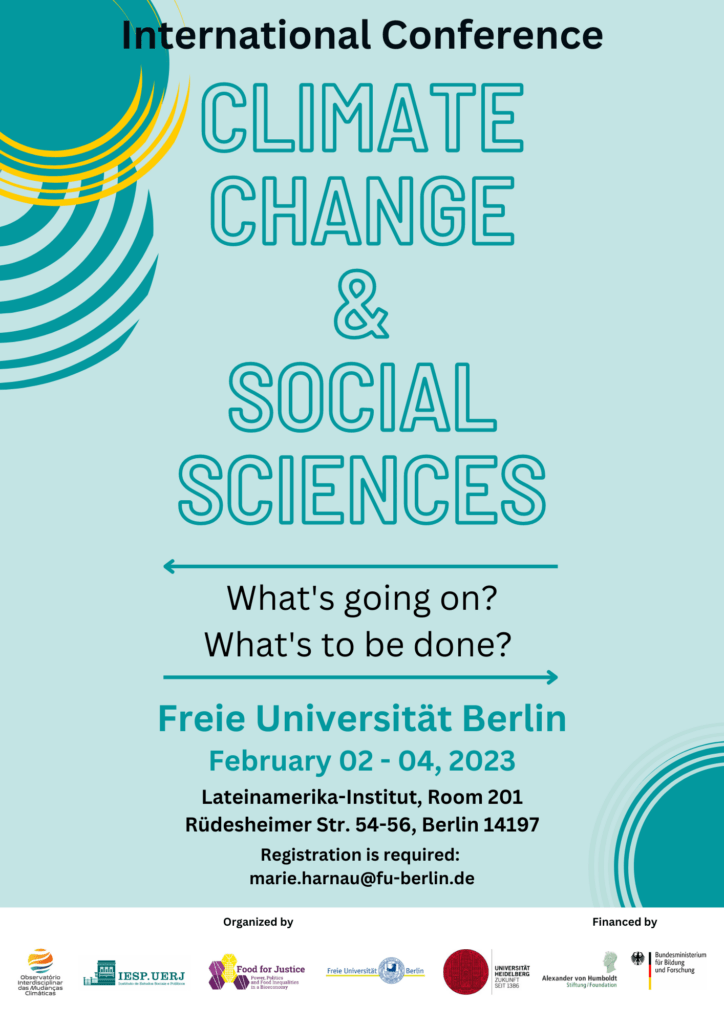 Time & Location
Feb 02, 2023 – Feb 04, 2023
Lateinamerika Institut
Rüdesheimerstraße 54-56
14197 Berlin

Room 201
Further Information
marie.harnau@fu-berlin.de