---
Food for Justice Talks (Virtual Debate): Increase in food insecurity due to the covid19 pandemic: Analysis of territorial inequalities from an intersectional approach in Chile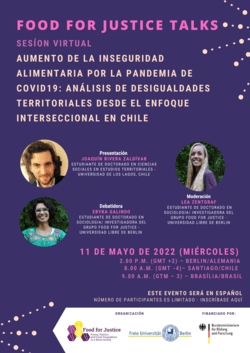 We happily announce the first edition of our Food for Justice Talks series on May 11, 2022. Ph.D. candidate Joaquín Zaldivar from the University of Los Lagos in Chile will present data and an intersectional analysis of increasing food insecurities in Chile during the Covid-19 pandemic. After, he and Eryka Galindo who is a Ph.D. candidate at Freie Universität Berlin and part of our Food for Justice Team will step into a debate. The event will be moderated by Ph.D. candidate Lea Zentgraf.
The event will be online and in Spanish.
You can register for the event here.