---
Food for Justice Talks (Virtual Debate): Social dimensions of agricultural multifunctionality in the context of structural change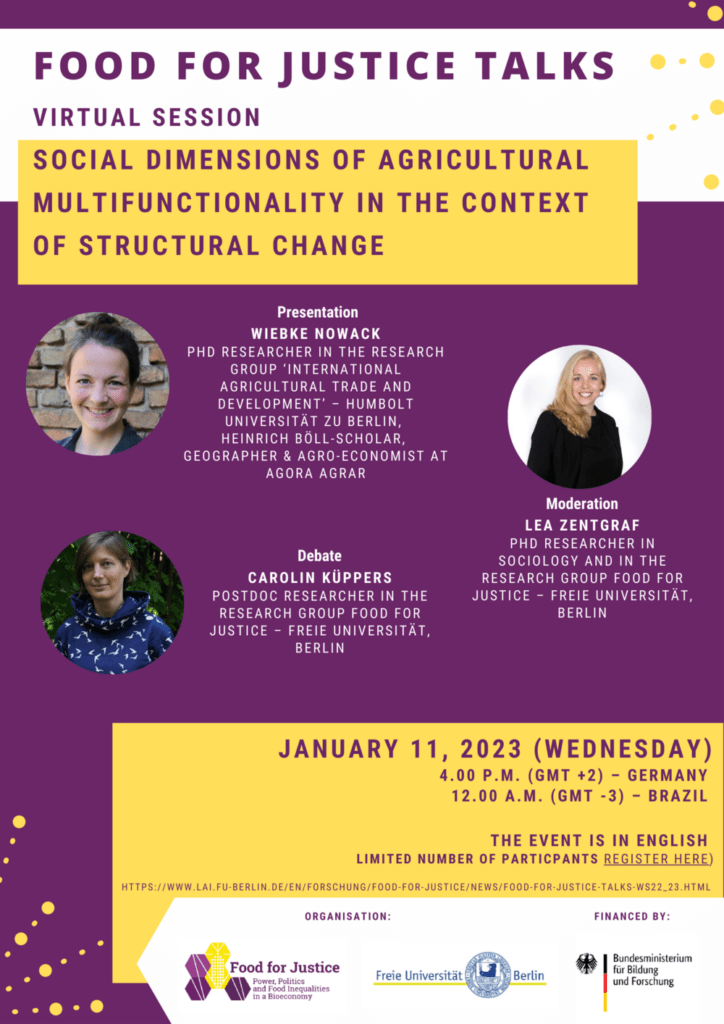 In our last session of Food for Justice Talks | Winter semester 2022/23 – our virtual discussion series on research on food, inequalities and food systems in Latin America and Europe – the topic will be Social dimensions of agricultural multifunctionality in the context of structural change.
Presentation: Wiebke Nowack – Doctoral Researcher in the Research Group 'International Agricultural Trade and Development' – Humbolt Universität zu Berlin, Heinrich Böll-Scholar, works for Agora Agrar with a focus on land use in the bioeconomy
Debate: Carolin Küppers – Postdoctoral Researcher in the Research Group Food for Justice – Freie Universität, Berlin
Moderation: Lea Zentgraf, Doctoral researcher in Sociology and in the research group Food for Justice – Freie Universität, Berlin.
The event will be in English.
Date: January 11, 2023 (Wednesday).
Time: 4.00 p.m. (GMT +2) – Berlin – Germany / Amsterdam – Netherlands | 12.00 a.m. (GTM -3) – Brasília – Brazil / Buenos Aires – Argentina | 11.00 a.m. (GMT -4) – Santiago – Chile
You can register here.
The day before the event we will send an e-mail with a Webex link to the registered participants.
For further information, please contact: lea.zentgraf@fu-berlin.de.