---
Renata Motta collaborates with the research project "Resistance to agribusiness and promotion of alternatives"
Renata Motta will be collaborating with Florencia Aranbicia, a CONICET researcher at the Centro de Investigaciones para la Transformación de la EEyN-UNSAM (School of Economics and Business at the National University of General San Martín), who will lead the project "Redes de expertos y experticia en los procesos de resistencia y en la promoción de alternativas al modelo de agronegocios en Argentina (2001-2020)".
This project aims to study the characteristics and functioning dynamics of the networks of experts, expertise and social movements that participated in the processes of resistance and in the promotion of alternatives to the agribusiness model in Argentina between 2001-2020. This proposal was adjudicated in the framework of the 2021 call for Research Projects in Science and Technology (PICT) of the National Agency for the Promotion of Research, Technological Development and Innovation of the MINCYT and it will be conducted by Aranbicia with Renata Motta and a team of researchers for two years.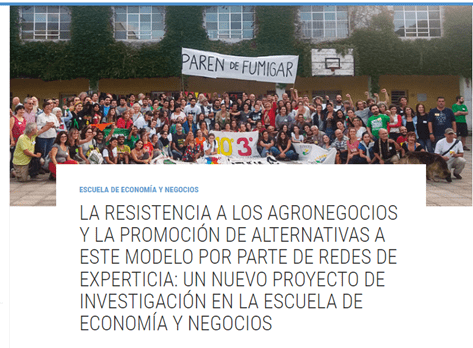 For more information click here.