---
Food for Justice Talk: "Marry a farmer or win the lottery" the (im)possibilities of accessing a farm as a woman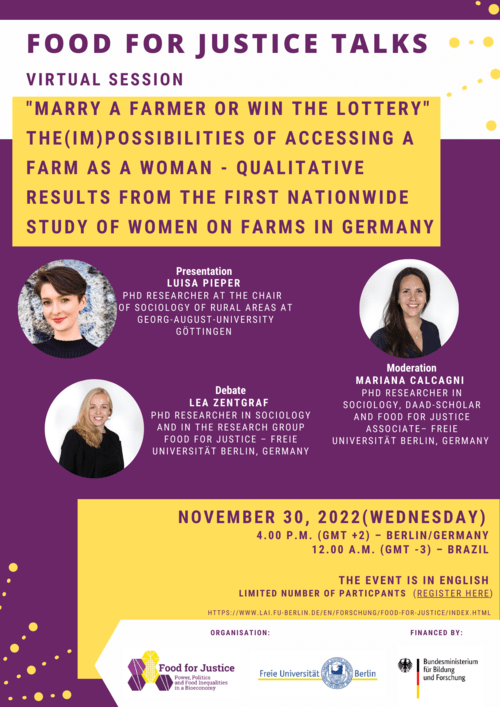 In our second session, this winter semester 2022/23 of the Food for Justice Talks – our virtual discussion series on research on food, inequalities and food systems in Latin America and Europe – the topic will be "Marry a farmer or win the lottery" The (im)possibilities of accessing a farm as a woman – qualitative results from the first nationwide study of women on farms in Germany.
Presentation: Luisa Pieper, Ph.D. researcher at the chair of Sociology of rural areas at Georg-August-University, Göttingen.
Debate: Lea Zentgraf, Ph.D. researcher in Sociology and in the research group Food for Justice – Freie Universität, Berlin.
Moderation: Mariana Calcagni, Ph.D. researcher in Sociology, DAAD-scholar, and Food for Justice Associate- Freie Universität Berlin.
Please register here.
We are looking forward to your participation.
Time & Location
Nov 30, 2022 | 04:00 PM
online