---
Food for Justice Talks (Virtual Debate): The contemporary corporate-neoliberal food regime: food security and rural women's work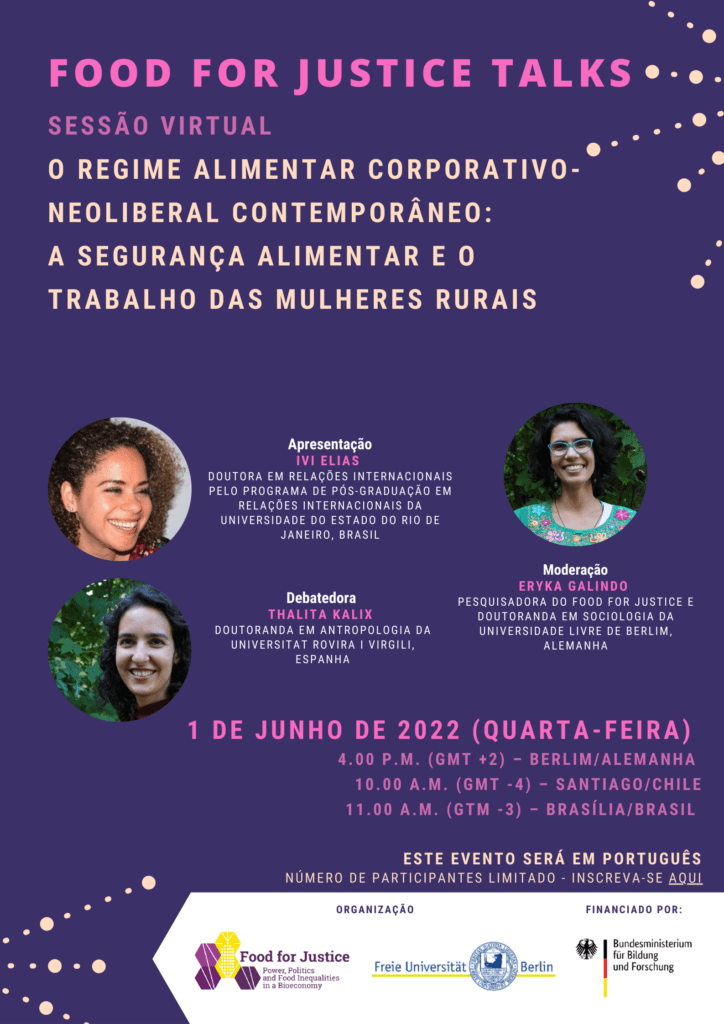 In our second session of Food for Justice Talks – our virtual discussion series on research on food, inequalities and food systems in Latin America and Europe – the topic will be contemporary corporate-neoliberal food regimes: food security and rural women's work.
Presentation: Ivi Elias – PhD in International Relations from the Graduate Program in International Relations, State University of Rio de Janeiro (UERJ), Brazil.
Moderation: Eryka Galindo – Researcher at Food for Justice and PhD student in Sociology at the Free University of Berlin, Germany.
Debater: Thalita Kalix – PhD student in Anthropology at the Universitat Rovira i Virgili, Spain.
The event will be in Portuguese and there will be no simultaneous translation.
Date: June 1st, 2022 (Wednesday).
Time: 4.00 p.m. (GMT +2) – Berlin – Germany / Amsterdam – Netherlands | 11.00 a.m. (GTM -3) – Brasília – Brazil / Buenos Aires – Argentina | 10.00 a.m. (GMT -4) – Santiago – Chile
LIMITED NUMBER OF PARTICIPANTS – REGISTER HERE: https://forms.gle/bt1yJ8PTfhhYpnxd6.